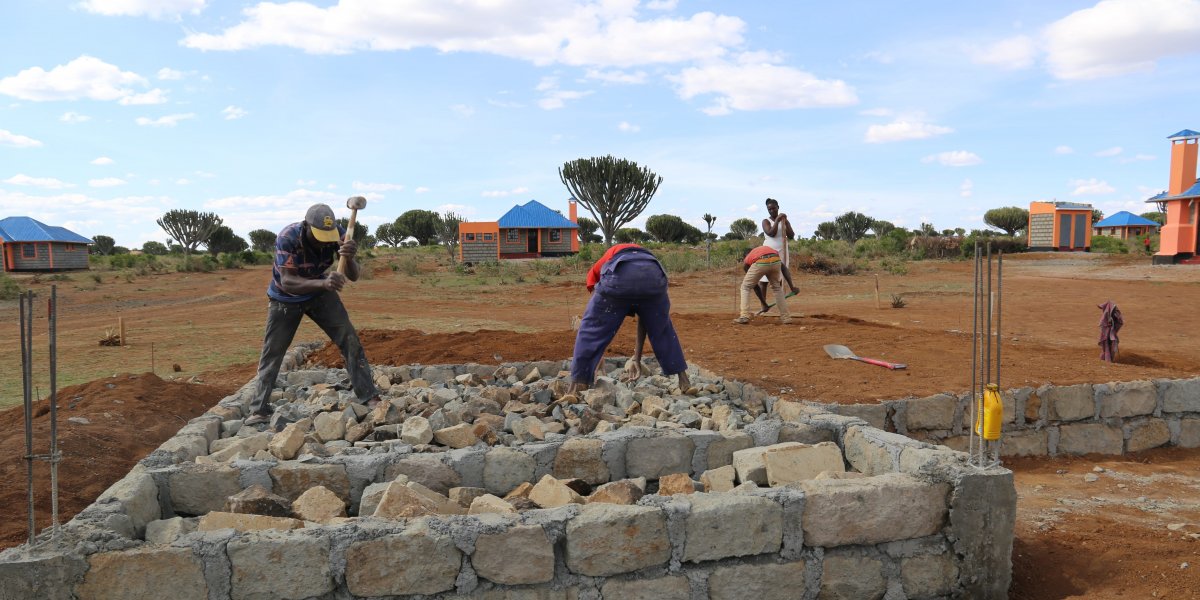 Settlement-based practice
A "settlement-based practice" promotes coherent and harmonized multi-sector support and assistance in a particular community. It responds to multi-sector needs and aspirations that are informed by people centered participatory processes that takes the economic, social, environmental and physical contexts into consideration.
Habitat for Humanity Kenya intends to see safe and resilient communities settled within quality and affordable houses with access to basic services and infrastructure.
In the next 4 years, HFK Kenya will identify at least 4 settlements in five counties and construct at least 100 in each settlement; rehabilitate several water facilities and infrastructure, support households to undertake livelihoods activities and improve sanitation infrastructure and systems within communities. In communities that are prone to disasters, Habitat for Humanity Kenya shall support communities to reduce risk and respond.
Activities under this programmatic area include;
Research on community and settlement needs and mobilization of resources for WASH, home construction and disaster risk reduction and response
Work with vulnerable households to construct and/or improve, water systems, sanitation and hygiene (WASH) solutions at individual and/or community levels.
Partnership building and development with the private sector, county governments and NGOs in support of the initiatives in the selected communities.
Convene county-based and national forums to share the housing outcomes for validation and learning.
Previous experience in settlement based practice.
Through our Orphans and Vulnerable Group (OVG) housing project, HFH Kenya  selected several communities in Laikipia, Homabay and Machakos. Out of this, 102 families, schools and communities in Homabay and Laikipia have been supported with newly built houses, classrooms, water and sanitation facilities and impacted over 10,000 people since 2018. Water and Sanitation facilities include construction of boreholes, renovation of water points, and supporting households with water harvesting systems and storage facilities. These activities have been supported by Procter and Gamble, Samsung Korea, Dow Chemicals, LG Electronics and Habitat for Humanity Global Network.
HFH Kenya mobilised £730,000 from local corporates and individuals to construct 335 houses to settle internally displaced people in Maai Mahiu, Naivasha in 2012, gaining valuable experience with large scale housing development.
HFH Kenya has had with valuable experience in mobilising and hosting volunteer groups for its housing construction programmes through HFHI's Global Village and our local Volunteer Engagement programs. To date we have hosted over 800 global and national volunteers.
We partnered with Panda SACCO (Savings and Credit Cooperative Society) which comprises of Panda Flower farm employees in Naivasha to improve the living conditions of its members. 
Disaster risk reduction and response experience has come from implementing WASH projects in drought prone areas and COVID-19 response projects in Laikipia and Homabay.