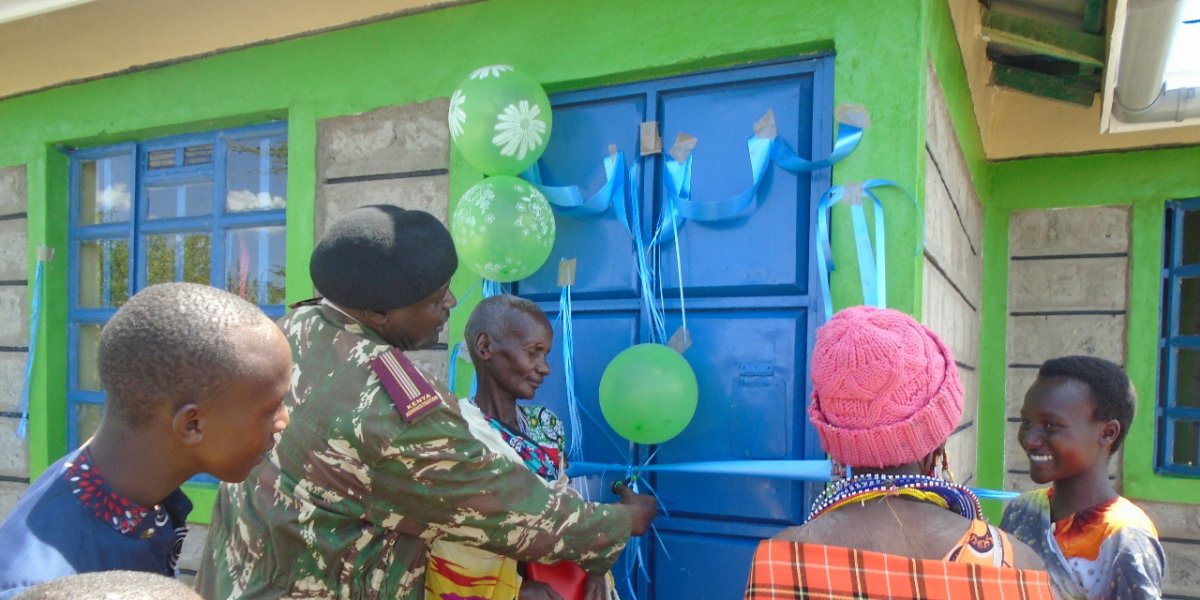 Thanks Habitat for Humanity for our new house!
Thanks Habitat for Humanity for our new house!
A family could not hide their joy during the handing over ceremony of their new house that was constructed by Habitat for Humanity Kenya. The family of Ntereno Moseka were visibly happy and shared their joy with their neighbors, community members and a few invited guests during the handing over ceremony conducted in Naibor, Mpala Sublocation, Laikipia County.
The community members joined in a short prayer session, singing and dancing celebrating the newly constructed house that was handed over on the 19th May, 2022. The ceremony was also attended by the area senior chief Mr. Robert Maina and assistant chief Mr. Duncan Mwenda.
The 56-year-old Ntereno Moseka could not hide her joy, speaking in Swahili she expressed her gratitude to Habitat for Humanity Kenya. "I would wish to thank Habitat for Humanity Kenya for constructing for us this new permanent house. May God bless you Habitat, I can't imagine that today we are receiving this beautiful house that I had not thought of owning in my lifetime" said Ntereno.
Speaking during the handing over ceremony the Senior Chief for Mpala Location, Mr. Robert Maina appreciated the work done by Habitat for Humanity in the location. "I want to thank Habitat for Humanity Kenya for changing the lives our people especially the vulnerable and low-income families. For sure Ntereno and family were not in a position to own or construct a decent house but Habitat for Humanity came through not only for her family but also for many others in our community who have also benefitted from house construction." Said Mr. Maina.
Ntereno and her three children have been living in a ruined stick-polythene walled house, roofed with polythene bags and with nick and damaged earthen floor. The family greatly suffered when it rained forcing them to move from corner to corner of the house that was leaking all over leaving their household properties soaked.  In extremely hot weather, the house became inhabitable because of the heat generated by the polythene walls.
The family had no access to clean and safe water with no means of preservation leaving them with an option to walk to a seasonal river which is currently dry due to drought.  Habitat for Humanity Kenya constructed for Ntereno and a family a 2-bedroom house fitted with gutters for a 2,000-liter water tank, a decent latrine and a bathroom.
The construction of the house kicked off officially on the 21st March, 2022 when HFHI leadership and staff under the leadership of Africa Area Vice President Maurice Makoloo joined the build event that entailed actual construction work and left when casting of the slab was done. The rest of the construction work was done by contractors.
Ntereno and her family forms part of the 40 families that will benefit from the construction of 40 houses this year as part of Habitat for Humanity Kenya's 40th anniversary celebration, each house will represent a year of HFH Kenya's operations and existence in Kenya. The houses will be constructed in the counties of Laikipia, Machakos, Homa Bay, Tana River and Kisumu.
Related