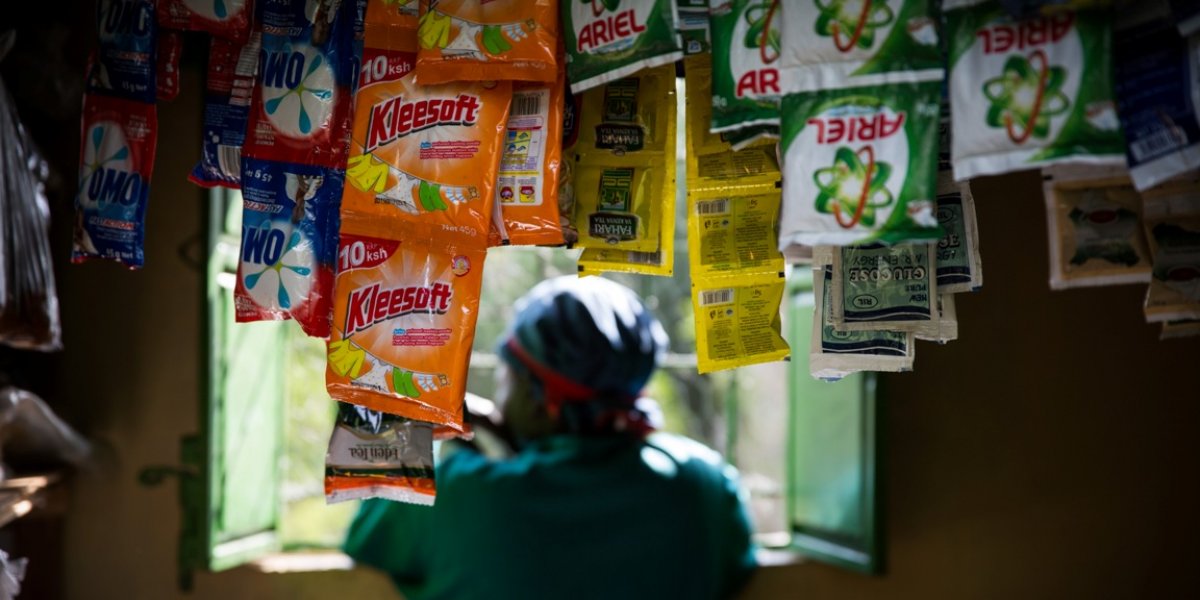 A house that helped save a life
(Maai Mahiu Project-Success Story)
A house that helped save a life
Julia is a survivor. The 54 year-old is HIV positive and knows that her regime of taking Anti-retroviral medicine and ensuring a healthy diet are critical to her very existence. In her verdant cottage garden, Julia cultivates a wide range of fruit and vegetables to help her cope with the obligatory daily cocktail of medicine.
As she busies herself in her immaculately kept yard, Julia talks with her eldest daughter and grandchild. Her desire to support the next generations is her motivation to keep going. HIV is not the only survival challenge Julia has encountered. Nine years ago she was living in Eldoret in Kenya's Rift Valley, the proud mother of four children: two boys and two girls.
As the year 2007 drew to a close, targeted ethnic violence erupted following the Presidential election. Julia's family was amongst those picked-out. People, who had been neighbours, attended the same church and schools turned on each other as violence was meted out, initially on people of Kikuyu origin. The just re-elected President, Mwai Kibaki, was a Kikuyu and so was Julia. She was forced to flee her home and even spent a day sheltering in a river to avoid detection.
"When I was in the river I asked myself some questions. There was a rumour that the election had been rigged and I was thinking, this is not my problem. This was a war that had already been planned. If we had known, we would have fled before the elections even took place."
Subsequent attempts to escape the perpetrators of the violence resulted in further scrapes with death. This included avoiding being locked in a church with 50 other people, which was then set alight. She lost one of her sons in the violence and remains distressed that his body has never been identified. It was a situation that pushed Julia to her limits: "Knowing I was HIV positive and knowing what I was going through, I even got to the point where I stopped taking medication hoping I would die."
Her love for her children, her faith and the chilling words of a counselor at a self-help group were the inspiration to continue:"They advised me to start life afresh and try and forget what had happened. They told me if I don't take care of myself, then no-one will support me and I'll die."
Those who had driven out Julia and her neighbours now occupied or dismantled the homes Julia and her neighbours had fled. Julia moved to a camp for Internally Displaced People (IDP), 250 kilometres along the Rift Valley. It has been estimated that there were as many as 650,000 people internally displaced by this targeted ethnic violence. The Government contributed some funds and the community united to acquire the land.  Home was a simple canvass tent and her bed was a mattress on the floor, but at least the community was safe.
The extreme climate in the Rift Valley cut through Julia's canvas abode: scorching heat, cruel cold, and heavy rain that drenched the bedding. Sitting under the shade of a Papaya tree in her yard, Julia reflects back on what life had been like: "There was a lot of wind, no trees, no grass, and no water source at hand. Our water source was the salty water from local hot springs, which we fetched with jerry cans. On times it would burn our backs."
It was then that Habitat for Humanity entered her life. Julia and her community became aware of the organisation when it started building homes in neighbouring Amani. Tabitha Njeri, who had known Julia from their previous life in Eldoret, was appointed Chairlady of the community. She was approached by Habitat as part of a disaster response programme to build homes in stages. Tabitha was initially asked to oversee the construction of 15 homes. After witnessing houses being constructed in a nearby camp, Julia was fortunate enough to be selected for a Habitat for Humanity home: "I prayed to God that one day Habitat for Humanity would do this for me. Now I have got one (a new home) I can source for more income and my businesses have expanded."
Clearly, Julia's house has given her a sense of security and a platform for personal and economic development. In addition to her garden, Julia has started a crafts business and even opened a little shop, which is built within her compound. It pleases her friend Tabitha: "I've seen Julia change. She was broken by her experience in Eldoret. But once her home was built, she could focus on rebuilding her life and making money through basket weaving, through making beads – both of which she sells – and through her shop."
Julia acknowledges that Habitat for Humanity was instrumental in inviting other organisations to assist the community's progress, as well as interested parties who become willing buyers of her beads and bags. The camp, which now houses a community of 226 families, is named 'Vumilia' after the Swahili word for perseverance. 
Julia is glad she continued to take her life enabling medicine during her darkest days. Looking fondly at her home, she comments: "Thanks to Habitat, I have a new drive and determination so that makes me  forget I am (HIV) positive. I only remember when I am taking my medicine."
Related