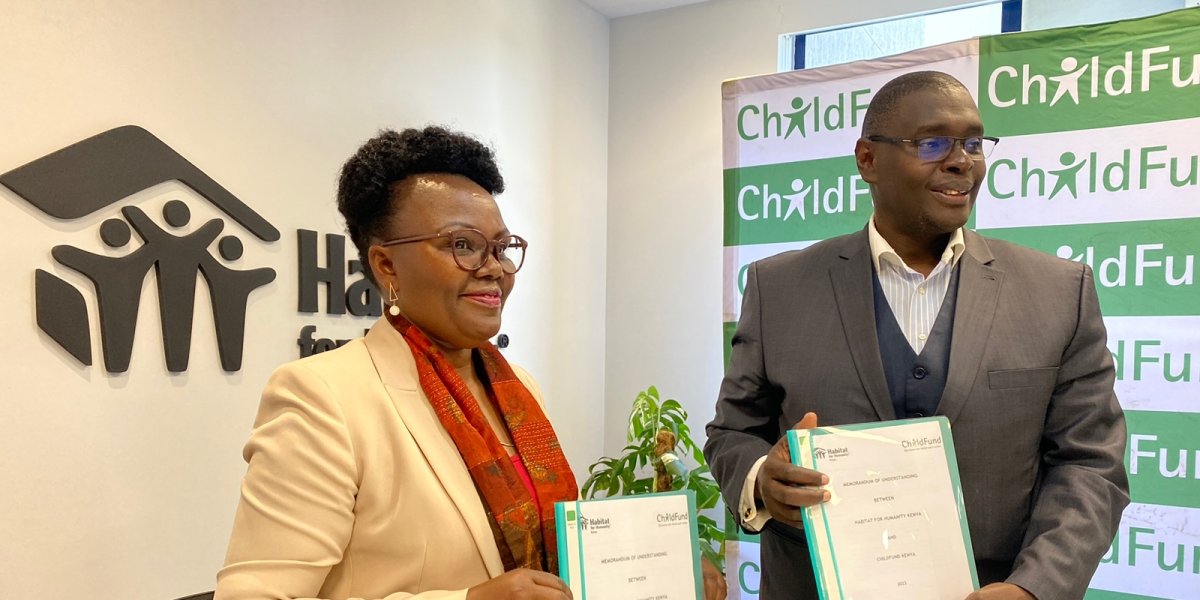 HFH Kenya ChildFund Kenya Partnership
Habitat for Humanity Kenya has signed a memorandum of understanding with ChildFund Kenya to guide the partnership between the two organizations towards provision of comprehensive service delivery that promotes sustainable development for the vulnerable children in Kenya.
The two organizations agreed to work together through mobilization of funds to implement joint projects that would transform the lives of the vulnerable children with key focus on housing using al, early childhood education, disaster risk reduction response, waste management, water hygiene and sanitation among others.
This partnership brings together organizations with unique strengths toward transformation of lives of the vulnerable. While HFH Kenya focuses on affordable housing solutions for the vulnerable and best settlement practices ChildFund focuses on protection of the vulnerable children.
Speaking during the signing event HFH Kenya National Director Anthony Okoth mentioned that this partnership will enhance the service delivery of the two organizations. "I am happy with this partnership and know that it will ensure we reach more vulnerable people in the society with a focus of transforming their lives for the better."  said Anthony.
ChildFund Kenya Country Director Alice Anukur noted that the two organization share similar vision of empowering the vulnerable and through this collaboration great results will be achieved. "We work with vulnerable children and most of them lack decent housing, with this partnership I am sure they will be able to get housing solution." Said Alice.
The signing ceremony was held at Habitat for Humanity Africa Area office and was attended by senior management team from both HFH Kenya and ChildFund Kenya.
Related