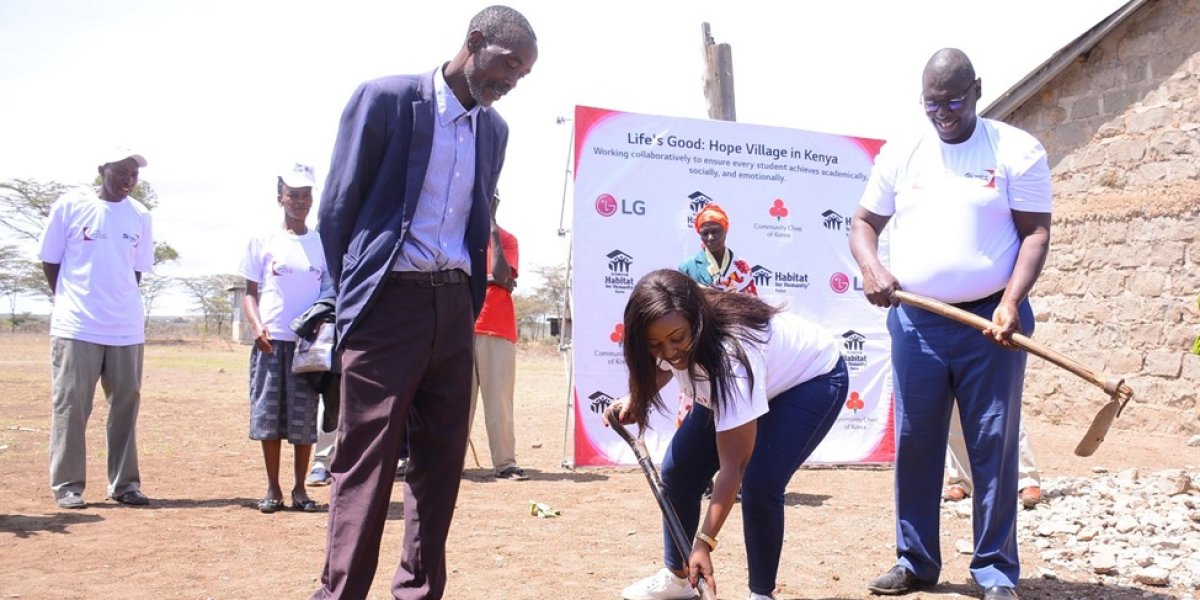 Habitat for Humanity Kenya and LG Electronics have jointly launched another life changing project that focuses on infrastructural facilities for learning and safety, water, sanitation and hygiene Kirima Location, and Laikipia-North Sub-County in Laikipia County.
The new project that will run for 10 months  aims a at Improving Learning and Housing conditions for the residents of Naibor Community in Laikipia County. The project will transform the learning environment  targeting  229 pupils of  Naibor Primary school in Kirima location.
The school has been having classrooms which endanger the lives of the learners with some walls almost collapsing and lacking proper sanitation facilities. Water remains a big challenge due to the unpredictable weather conditions forcing the pupils to go to the river for water wasting a lot of time.
A groundbreaking ceremony for a new classroom block has been done and in the next few months the classroom will be ready for use serving about 50 pupils who are currently learning in unconducive environment.
Speaking during the ceremony Anthony Okoth, National Director Habitat for Humanity Kenya noted that this project will improve the academic standards for the learners and will also have an impact in the lives of the selected families that will benefit from the housing project. "I would like to thank LG Korea for partnering with us through our counterpart Habitat for Humanity Korea to have additional classroom and toilet blocks to fill the gap of decent and conducive learning environment. In the next couple of months, we will be back to commission the new facilities," he added.
Habitat for Humanity Kenya and LG Electronics will also construct a two toilet block with four separate doors serving boys and girls. This will solve the current lack of proper toilets in the school. The latrines are in the verge of collapsing and the pupils lack other alternatives. This has greatly endangered the lives of the pupils. Besides,  HFH Kenya the two will also Install two 10,000 liter tanks for rainwater harvesting to benefit the 229 pupils.
Through this partnership, 7 families will benefit from complete housing transformation through better settlement practice. As part of the interventions, the two organizations will oversee the construction of 1 home using low-cost technologies, and 6 New latrines for both the new houses and the Home Improvement. Additional 6 water harvesting systems for 6 homes will be installed.
Related