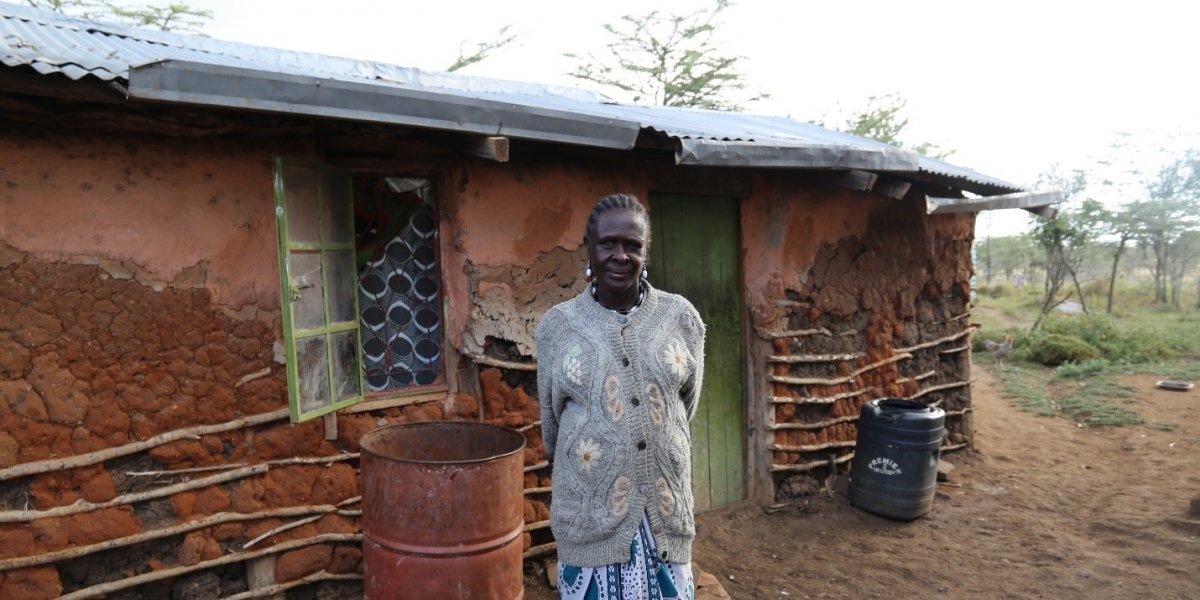 Homes and Hope for Residents of Mpala Location – Nanyuki, Laikipia County.
In communities deemed as marginalized, many families live in destitution and thus poor housing conditions and infrastructure are common. In Kenya, with a population of over 47 million as per the 2019 national census, 43.4% of the population live below the poverty line with an unemployment rate of 40%. Housing affordability then is a key challenge in Kenya with many people unable to afford to buy or build their own home. This means that decent housing which is fundamental to families forging a path out of poverty, is greatly lacking for majority of Kenyans.
Habitat for Humanity Kenya (HFH Kenya) has been implementing a Vulnerable Group Housing (VGH) Project Laikipia and Homa Bay counties since 2016. The project supports construction of low cost houses, water and sanitation and energy facilities for vulnerable groups of people in selected villages. The houses are constructed either through direct community engagement or local hired contractors. The community engagement approach involves the participation of community members, volunteers under the Global Village Volunteer Program and local artisans. HFH Kenya's target beneficiaries are selected based on specific vulnerability indicators which include the elderly, widows/widowers, child-headed households, orphans and vulnerable children, HIV/Aids affected/infected with the common criteria being an income of less than Kshs 200 ($2) per day and dilapidated structures/shanties.
The project has so far constructed 65 houses in Laikipia County, 47 houses in Homa Bay County and an equivalent number of toilets in each county. The specific project sites in Laikipia are; Rumuruti (25 houses) and Nanyuki (40 houses) while in Homa Bay its Rangwe (39 houses), Ndhiwa (5 houses), Mbita (3 houses).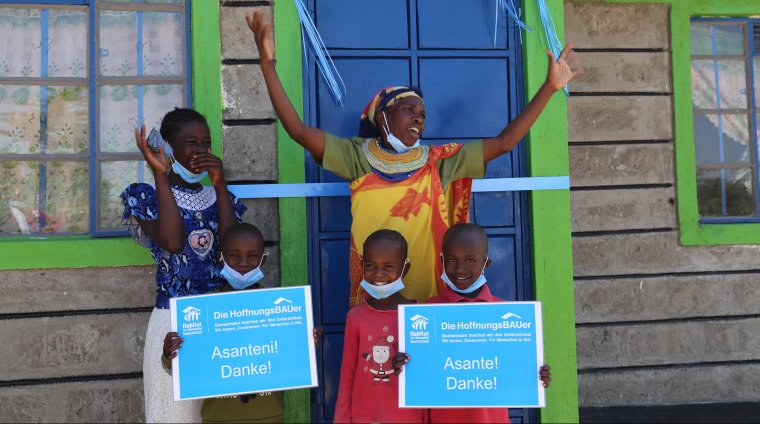 Mpala Location, Laikipia County
In collaboration with the County Government of Laikipia, HFH Kenya has identified Mpala Location in Nanyuki area as the next viable location for intervention. A needs assessment was conducted in 2020 to select potential family beneficiaries that were added into our beneficiary database. Through the need assessment, HFH Kenya now have a database of over 100 households that are deserving of new or improved homes in Mpala Location. HFH Kenya's intervention specifically targets the following villages in Mpala Location; Naibor A, Naibor B, Naibor C, Kimuri, Jua Kali, and Mutirithia. The target residents of these villages live in houses made of mud and cattle dung with a grass roofing and earthen floor, and no proper ventilation. Open defecation or at best use uncovered pit latrines is the most common ways of feacal matter disposal. The region also lacks a reliable source of clean water. This situation puts the people's lives in a great health hazard.
Progress so far.
From 2020 to date we have been able to construct homes for 11 houses in Mpala Location, mainly with support of Habitat for Humanity Germany and HoffnungsBAUer [Hope Builders]. Construction has been slowed down by the emergence of the COVID-19 pandemic which has brought unprecedented challenges to all parts of society. HFH Kenya is however continuing its efforts to raise funds and meet the housing need as well as diversifying the approaches that we employ to support low-income households access decent homes. Our diversification includes; engaging Kenyan-based corporates and other institutions to invest in a campaign dubbed To meet our goal and improve housing in Mpala Location, HFH Kenya has also partnered with WOLFF & MÜLLER, a Germany based construction company to build the economic well-being of community members by identifying financially excluded women and youth, organizing them into savings groups and training them on savings and loans; and building their capacity in financial literacy and business development.
To the residents of Mpala Location – A new day a dawned. Here are a few individual stories of beneficiary families in Naibor village, Mpala Location – Laikipia. Below are some success stories.
Margaret Miera Rambas.
Margaret is 43 years old and a single mother of three children who also takes care of one abandoned child. She works as a casual laborer. A few years ago, Margaret's house went up in flames and was rendered homeless save for a good gesture by the local area chief who gave her a one roomed house located in a market centre to temporarily live in. The room was made of old corrugated iron sheets, earth floor, and wooden wall. It was in a dilapidated condition with several cracks on the walls and some sections already falling off. The space was inadequate space for the five occupants. It was also not well ventilated making it difficult for the children to study and to do their school work especially at night.
Habitat for Humanity intervened and built her a new house that provided a good and spacious environment for her family to live and for the study and do school homework.
When receiving the new house, Margaret could not hide her joy.
"When Habitat officials visited my rental house in January 2020, I did not believe that one day I will live in a house of my own like other prominent people in my village. I feel young again. May God bless Habitat for Humanity for bringing love and joy to me and other poor families in the my area."
Selina Ngasike.
Selina is a 60-year-old widow taking care of four orphans left under her care after the death of her children. Dependent of her daughter who is also financially struggling, Selina could barely afford to place food on the table let alone repair or build herself a better house. With her four dependants, Selina lived in a one roomed house made of old corrugated iron sheets, earth floor, wood and mud wall , with poor ventilation and leaking roof which exposed the occupants to respiratory infections. 
For Selina's family, water was sourced from a river or a seasonal pond which is 2 Km away from their home making it extremely tiresome and difficult to acquire enough clean water for domestic use. This family also lacked a proper toilet and a bathroom which are essentially core entities for any household.
Bearing these attributes, Selina and her family were selected in January 2020 to become beneficiaries of the Habitat's Vulnerable Group Housing Project. Today, her children and grandchildren not only have a spacious house to live in, but it is also well lit for studying. Habitat constructed for them a two-bedroom house with a kitchen, a toilet and is accommodating for her family.
"As a parent what you want for your children is for them to be warm, fed, safe and have somewhere to sleep." Said Selina.
Her grandchildren are incredibly happy and couldn't hide their joy "Our house is really warm and life here is more fun" one of them said.
Selina now uses the little cash she acquires from menial jobs and from her daughter not to repair a leaky house but to feed her family and pay fees for the kids in grade one and grade two.
Related