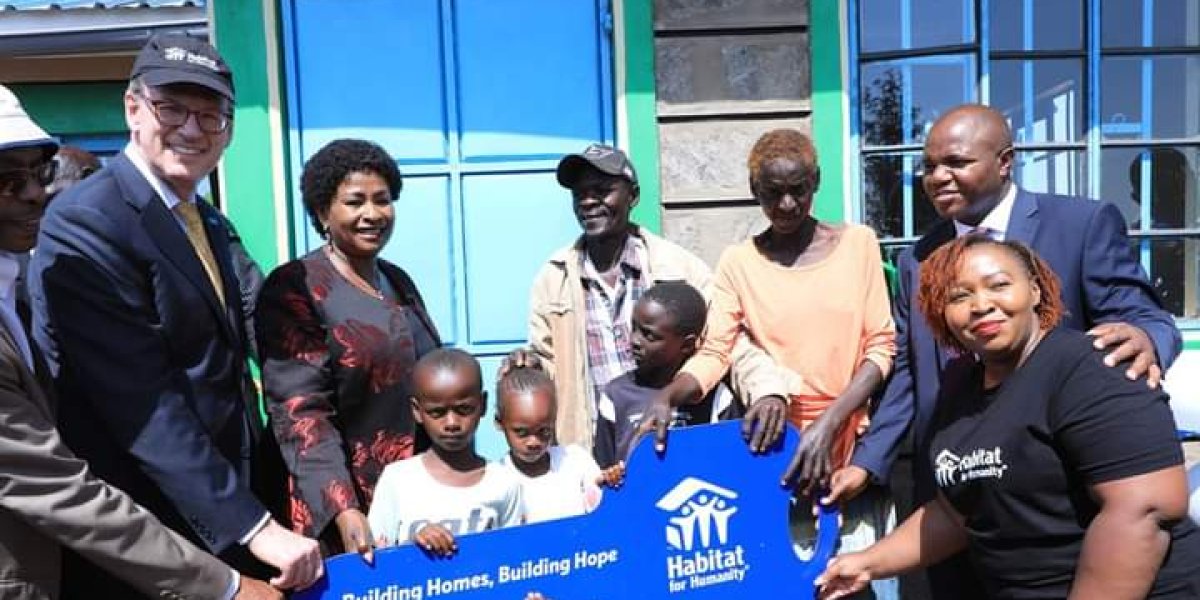 Houses dedicated, Machakos County
H.E. Governor Wavinya and Jonathan Reckford presides over the ceremony
Governor H.E. Wavinya Ndeti together with Mr. Jonathan Reckford, CEO Habitat for Humanity International presided over the handover ceremony of a housing program for the low-income and vulnerable families in Kyumbi Machakos County. The houses were constructed through a housing program implemented by Habitat for Humanity Kenya benefitting 13 families who previously lived in deplorable housing conditions.
The handover ceremony followed successful completion of construction of the two bedroomed houses, fitted with water tank for rainwater harvesting, detached toilets and bathrooms. The construction cost of the units is estimated at about Kshs 850,000 for a 33 square feet house.
Speaking during the ceremony Habitat for Humanity International CEO, Mr. Jonathan Reckford who was in Kenya for an official visit noted that the housing problem is a reality in many parts of the world and the low-income families are mostly left behind in the affordable housing programs. He noted that Habitat for Humanity's vision of a world where everyone has a decent place to live has been the motivating factor for the organization to provide housing long lasting affordable housing solutions and other essential services including water, sanitation and hygiene.
The beneficiaries of the 13 houses were selected in collaboration with community leaders, and other stakeholders in Machakos. Habitat for Humanity Kenya then used a fool-proof system to validate the vulnerability and needs of beneficiaries, and ownership of the land for construction. These beneficiaries included child-headed households, vulnerable widows, and widowers, the physically and mentally challenged, orphans and vulnerable children, and persons with or affected by HIV, generally earning less than $1 dollar per day.
Prior to the handover ceremony, Habitat for Humanity Kenya and Machakos county signed a memorandum of understanding that will guide the expansion of affordable housing programme partnership for the low income and vulnerable families in the county.
"We are happy to sign this MoU with Habitat for Humanity Kenya a key player in the affordable housing sector. We look forward to working together to ensure that more people in our county have access to affordable housing in line with the national government's agenda," said H.E. Wavinya. The signing of the MoU will lead to joint implementation of housing programs, infrastructure for schools, water hygiene and sanitation.
Speaking during the signing of the MoU Anthony Okoth National Director, Habitat for Humanity Kenya noted that affordable housing will be achieved through partnerships with government and other stakeholders in the housing sector, he acknowledged the national government's agenda on affordable housing and called upon the government to create and enabling environment to enable more Kenyans to build more houses for themselves. He also noted that plans should be put in place to assist the vulnerable to also have their own affordable houses without being left behind.
Habitat for Humanity Kenya is also implementing the affordable housing programmes in the counties of Homa bay,Kisumu, Makueni, Tana River and Laikipia county
Related