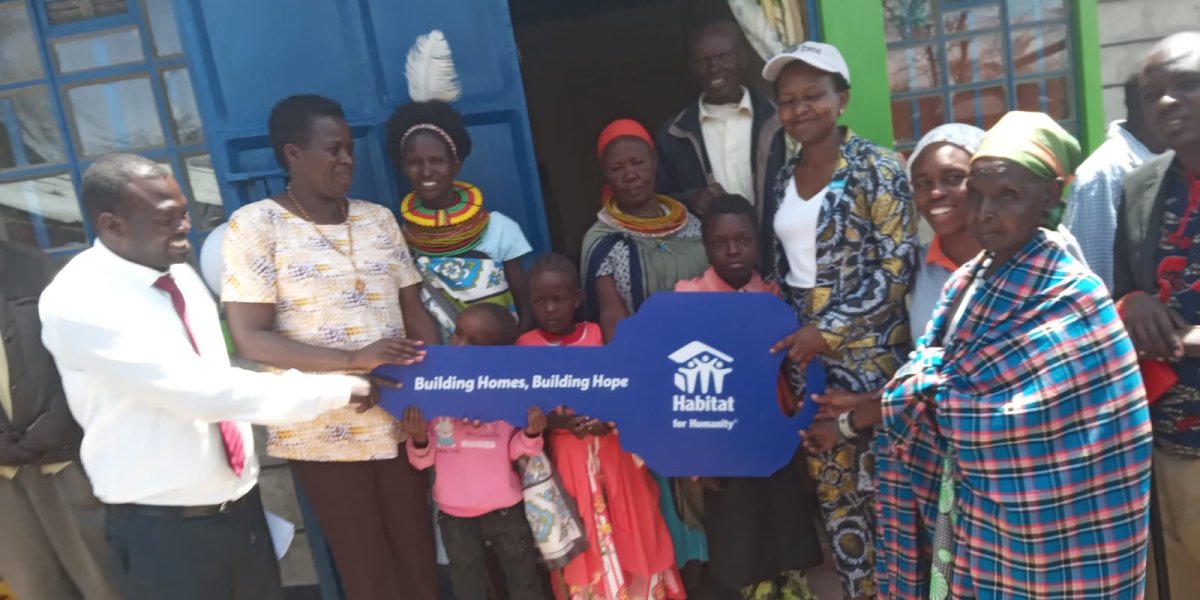 House Handover Ceremony
A total of 5 houses dedicated in Laikipia County
Habitat for Humanity Kenya  handed over 5 newly constructed houses to new homeowners in a colorful ceremony presided over by MP Laikipia North Sarah Lekorere at Naibor, Laikipia County.
Hon Sarah Lekorere who was the chief guest during the event appreciated the work done by Habitat for Humanity Kenya towards provision of decent housing to the vulnerable. "I am happy with the work of Habitat in Laikpia, they have constructed classrooms at Mbombo primary, at Kariunga our people have access to safe and clean water courtesy of Habitat for Humanity Kenya. We thank you for the good work,"she said.
The handover ceremony follows successful completion of construction of the two bedroomed houses, fitted with water tank for rainwater harvesting, detached toilets and bathrooms. The construction cost of the units is estimated at about Kshs one million for a 33 square feet house.
Speaking during the event Ms. Rita Munyae Partnership Manager, Habitat for Humanity Kenya noted that the housing problem is a reality in many parts of the world and the low-income families are mostly left behind in the affordable housing programs. She noted that Habitat for Humanity Kenya's vision of a world where everyone has a decent place to live has been the motivating factor for the organization to provide housing long lasting affordable housing solutions and other essential services including water, sanitation and hygiene.
The beneficiaries of the 13 houses were selected in collaboration with community leaders, and other stakeholders in Laikipia County. Habitat for Humanity Kenya then used a fool-proof system to validate the vulnerability and needs of beneficiaries, and ownership of the land for construction. These beneficiaries include child-headed households, vulnerable widows, and widowers, the physically and mentally challenged, orphans and vulnerable children, and persons with or affected by HIV, generally earning less than $1 dollar per day.
Through settlement-based practice thematic area, HFHK has constructed 3 schools fully fitted with WASH element in Laikipia (Mukima secondary, Mbombo and Naibor primary schools) to a greater extent HFHK received funding from our Germany partners Wolfgang Duerr Foundation for the construction of 3 classrooms at Naibor primary school and received another funding from Hope Builders for our Vulnerable Group housing project in Naibor village. Habitat for Humanity Kenya is also implementing affordable housing and other programmes in the counties of Homa bay, Kisumu, Makueni, Tana River and Machakos.
Related