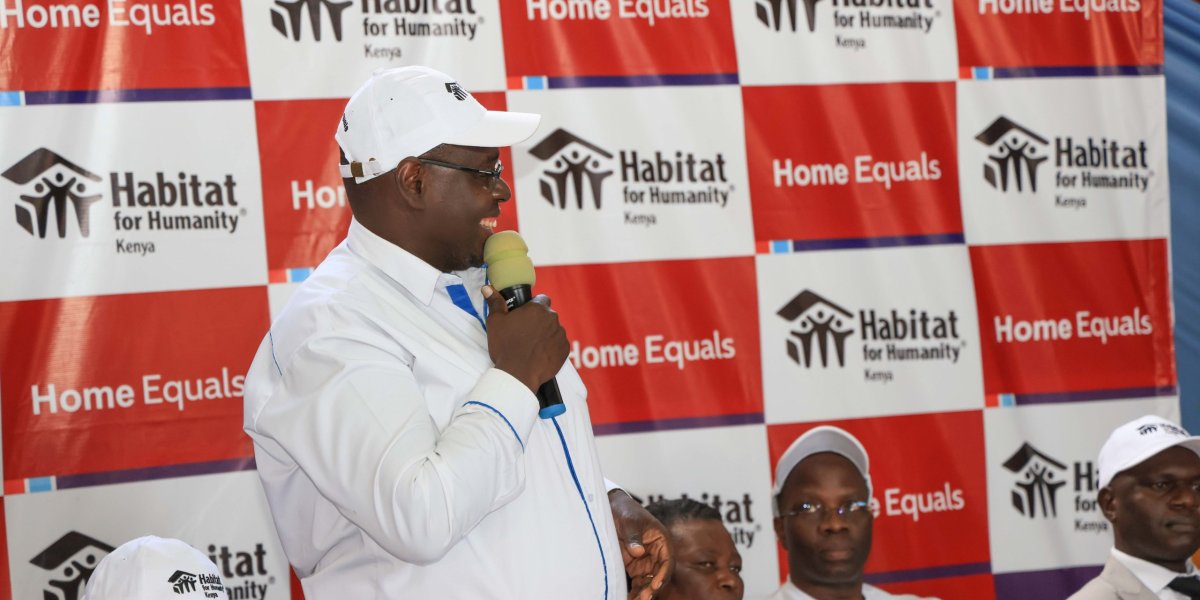 Habitat for Humanity Kenya launches Home Equals campaign in support of people living informal settlements.
NAIROBI (July 11, 2023) — Habitat for Humanity Kenya and our partners in Kenya today launched a two-year campaign, called Home Equals, seeking policy and system changes as at the County and national levels. This is part of a Global Initiative by Habitat for Humanity International that is addressing housing deficits for people living in informal settlements in partnership with partners, governments, and communities in 35 countries worldwide. In Kenya, the Home Equals campaign is focusing on empowered participation of residents of Mukuru informal settlement in Nairobi on land tenure security, basic services, and climate resilience.
About 60% of the residents in Nairobi live in informal settlements with that figure continuing to rise primarily due to increased rural-urban migrations in search of better paid employment. These communities have very limited access to basic services such as clean water, sanitation, and electricity. People living in informal settlements lack land and property rights, often fearing eviction. They face worsening threats from climate change, including droughts and floods.
To implement the Home Equals Campaign, Habitat for Humanity Kenya is partnering with a local grassroots NGO, Akiba Mashinani Trust to engage with the Nairobi City County Government for the provision of basic services, including access to clean water and sanitation for at least 50,000 Households. Habitat for Humanity Kenya and Akiba Mashinani Trust are also convening partners in the land sector to help people living in Mukuru to advocate for tenure security. Of key importance is the enacting and implementation of the Mukuru Special Planning Area (SPA), an upgrading process developed by residents of Mukuru Kwa Njenga, Kwa Reuben and Viwandani that identified critical pillars for sectoral planning.
"As we pursue equity in development, let us remember that residents of informal settlements are not problems to be solved but powerful partners in finding solutions. Residents of informal settlements are playing an incredibly important role as they find solutions to their habitats for themselves," said Anthony Okoth, Habitat for Humanity Kenya, National Director. "This is what Habitat for Humanity Kenya hopes to achieve through Home Equals – partnership with the people for their wellbeing", he added.
Mukuru is home to over 400,000 people or about 100,000 households, 94% of whom are tenants. In August 2017, the County government of Nairobi declared Mukuru informal settlement a Special Planning Area (SPA). Community members participated in more than 250 neighborhood planning forums, and 114 formal consultation meetings were held during the SPA consultative process.
"Community participation is critical to boost the odds of success. We are aware that you cannot plan without the people. To successfully lift the residents of Mukuru out of systemic structures that perpetuate poverty, placing them at the centre of planning and development is pivotal' said Jane Weru, The Executive Director, Akiba Mashinani Trust. "We welcome Habitat for Humanity Kenya partnership, and we look forward to working together to support the people of Mukuru in achieving their aspirations as outlined in the SPA", Jane added.
Mukuru residents also spoke of their pains and expectations from the national Government and the County government. A key pain is the lack of participation in the ongoing affordable housing program at Mukuru. The residents made a request to the national government to involve and work alongside them in the ongoing affordable housing program. They especially want the selection of beneficiaries for the new houses to be conducted in a transparent manner.
The Home Equals project by Habitat for Humanity Kenya will also include a demonstration component involving construction of prepaid water dispensers in Mukuru that make clean water available at a greatly reduced cost. It will also be supporting the digitization of land titling efforts by the Homa Bay County Government.
Present at the Home Equals launch includes representatives from Nairobi County Government and the State Department of Housing and Members of County Assembly.
END.
For more information please contact:
Ian Luvayo
Communications Assistant
Habitat for Humanity Kenya
Office: 0101 454380
Mobile: 0708 057187
Email: ian.luvayo@hfhkenya.org
Evans Otibine
Programs Officer
Akiba Mashinani Trust
Mobile: 0794 527537
Email: evansotibine@gmail.com
Habitat for Humanity Kenya (HFHK) was established in 1982 as a not-for-profit, non-governmental organization (NGO) and is an affiliate of Habitat for Humanity International (HFHI). The organization's overall goal is to enable low-income families to access decent and affordable shelter. HFH Kenya supports building the economic well-being of communities and individual households by improving their access to housing finance and establishment of settlements equipped with quality and affordable houses, with access to basic services and infrastructure including, water facilities, household livelihood activities, and sanitation. HFH Kenya also supports women and other vulnerable groups to access and secure land titles through advocacy and raising awareness on existing land laws and tenure options in Kenya. Implementation is focused in 7 Counties in Kenya, namely, Laikipia, Homabay, Machakos, Nairobi, Kisumu, Tana River and Makueni.
Related