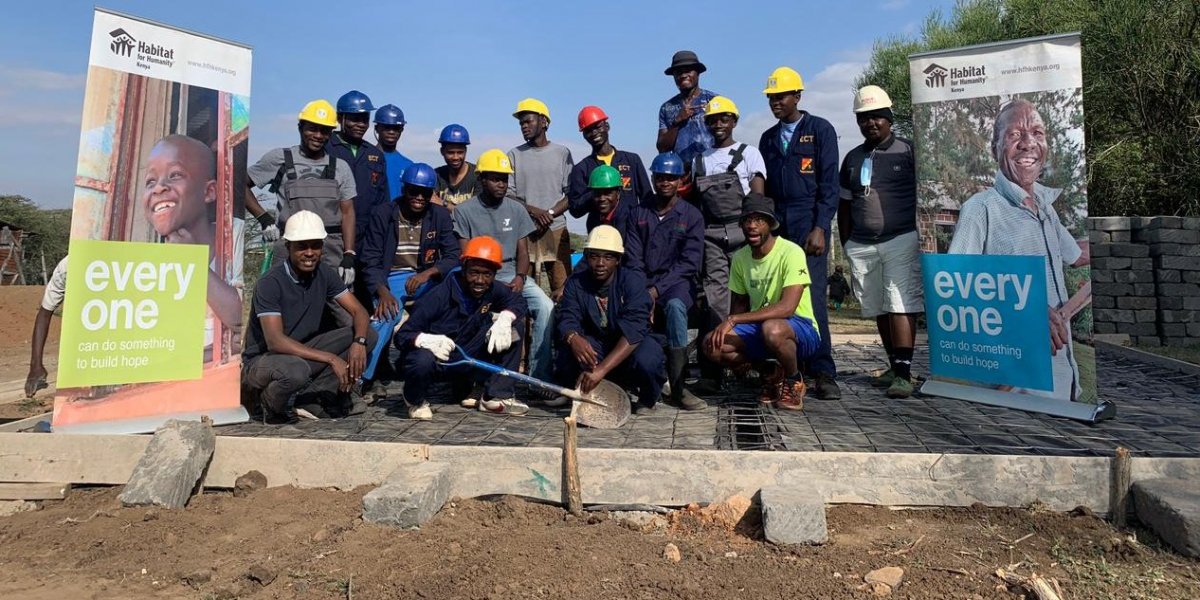 Strathmore University Student Volunteers Build
It was fun and joy for about 20 students from Strathmore University who  took part in a build activity at Naibor, Laikipia County to construct  a house one of the low-income and vulnerable families. The students set aside one week off their busy schedules to give back to the community as part of their corporate  social responsibility by providing sweat equity.
Through the local volunteer program, Habitat for Humanity Kenya partners with local and global volunteers to provide opportunities for all to support vulnerable families through contributing their time, resources and labor to build homes for orphans and vulnerable groups in Kenya. The target beneficiaries for housing through volunteerism consists of the elderly, widows, and widowers, child headed households, orphans and vulnerable children, those affected or infected with HIV/AIDS earning less than USD 2 per day.
The Strathmore University students,  most of them with no prior experience in building, construction or such  volunteer work were able to work with the assistance of the skilled contractors, they did the slabbing and walling of the house unto the lintel level in a record of  four days.
Arriving on 4th July,  the students were taken through an orientation program by Habitat for Humanity Kenya staff. They reported to construction site on 5th July, 2022 very early in the morning to begin working on the slab. Dividing themselves into groups, some of them mixing concreate, others fetching water while others pushed wheelbarrow with concreate. The students worked as they listened to music, danced and cracked jokes. Within a few hours, the slab was perfectly done.
On 6th July, the walling work begun, with the aid of the skilled contractors they set up the walls and continued with the construction work. Father Charles Mundia, Chaplain Strathmore University joined the students on this day and took part in the build activity. He later performed  dedication prayers for the construction work and the house.
"I have enjoyed participating in this construction work,  I thank Habitat for Humanity Kenya for granting us the opportunity to serve the less privileged in the community. I have  worked in construction sites  for payment before, but I can't compare the experience. This is so unique, it is giving back without expecting payment but blessings from God" says Erick Mukundi one of the students  from Strathmore University.
Another student, Michael Makonnen  appreciated the opportunity and encouraged Kenyans to consider volunteering to help the vulnerable and low-income families access affordable and decent housing. " I want to appeal to more Kenyans to join this noble initiative, when you help others, you reflect on what is important in life and you gain more" adds Michael.
Angela Nan'gor the beneficiary of the house under construction, is a 28-year-old mother of two who has been living together with her children in a dilapidated house she inherited form her late grandmother.  The house  has a leaking roof and walls that are almost falling off has. She was lucky to be selected as athe beneficiary of the 40@40 campaign  that aims at constructing 40 houses for 40 low-income and vulnerable families as part of Habitat for Humanity Kenya's 40th anniversary celebrations.
"It is a blessing for me to have the students in the construction work of this house donated by Habitat for Humanity Kenya, they are very jovial and energetic making the work to move so fast, I will forever remain grateful to the students for sacrificing their time to come and construct our house'' says Angela Nangor the house beneficiary.
Individuals and corporate organizations can also provide support through  donation of funds for house construction or  building  materials. A complete house costs Kshs 950,000. This can be further divided into the costs for foundation and slab, walling, roofing, windows and painting, latrine and water tank. A donation of Kshs 40 can buy one brick for walling.
Related