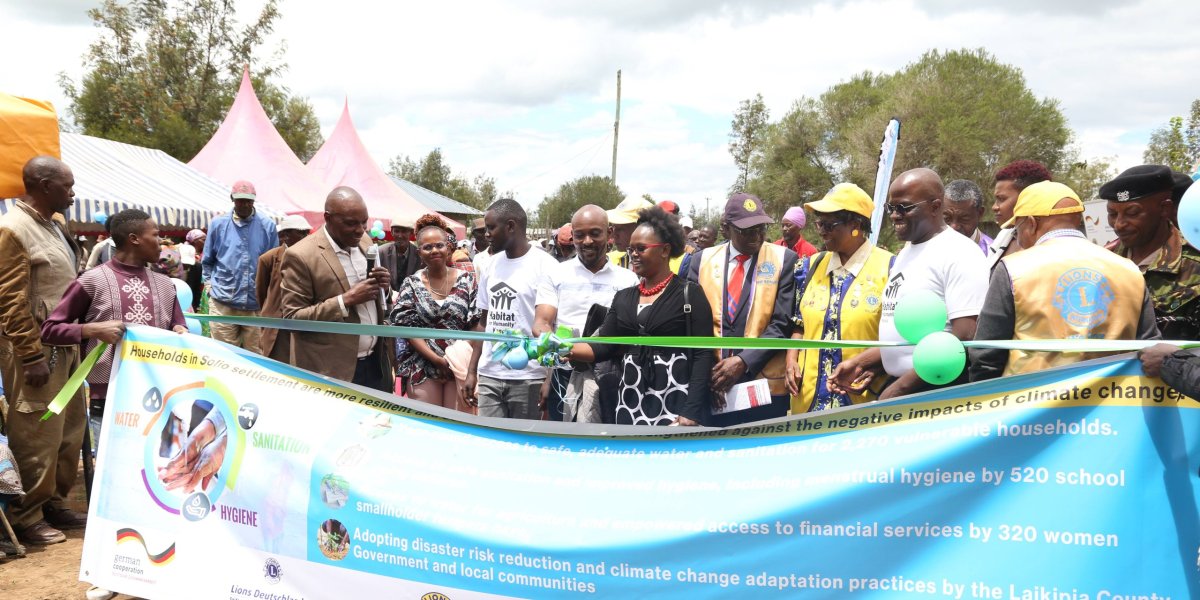 Transforming Lives in Solio, Laikipia County: A Glimpse into "Improving Resilience to Climate Change" Project
Introduction:
Laikipia County, nestled in Kenya's Rift Valley Region, is a land of breathtaking beauty and striking contrasts. Stretching over 9,532 square kilometers and expected to house a population of 615,925 by the end of 2022, the county has long grappled with a daunting Human Poverty Index (HPI) of 57.3, well above the national average. These challenges are exacerbated by issues such as irregular and insufficient rainfall, illegal settlements, and water scarcity, which have resulted in poor crop yields, food shortages, and livestock-related problems. With an average annual income of just USD 300, primarily from agriculture, the residents of this semi-arid region also face hygiene and sanitation issues, gender inequality, human-wildlife conflicts, and vulnerability to droughts and floods.
In light of these challenges, Habitat for Humanity Kenya has embarked on a transformative mission with the project titled "Improving Resilience to Climate Change for People in the Semi-Arid Regions of Laikipia County." This ambitious endeavor aims to tackle a myriad of issues, with a particular emphasis on water and food security, women and youth empowerment, and ecosystem restoration through tree planting. The ultimate goal is to enhance the livelihoods and resilience of the Solio community.
A Timely Initiative:
Today, we are proud to launch this project, and our efforts have already garnered recognition and appreciation from key stakeholders. The Deputy Governor of Laikipia County expressed his gratitude, stating, "He and his county government are really grateful to Habitat for Humanity Kenya for bringing such a timely project to the people of Solio."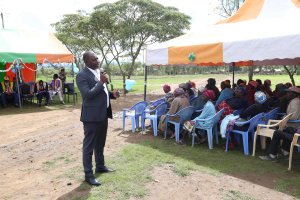 Project Objectives:
The "Improving Resilience to Climate Change" project has set its sights on several crucial outcomes to uplift the lives of the Solio community:
1. Reducing Poverty and Diversifying Income Sources: At the project's inception, 62% of households had an average annual income below 300 Euros. The project aims to reduce this to 20% and diversify income streams.
2. Improving WASH (Water, Sanitation, and Hygiene) Practices: Currently, only 26% of households have a constant water supply, and 43% travel over 0.5 km for water. The goal is to have at least 70% with a constant water supply, with fewer than 20% traveling long distances.
3. Increasing Food Production and Income: Less than 1% of households currently produce enough for consumption and sale, averaging 78 euros per year. The project aims to have at least 50% producing enough food for sale, with an average income of 400 euros per year.
4. Creating Awareness About Climate Change: The goal is to have 50% of households implementing climate-resilient practices, thereby improving community understanding.
5. Involving Women in Decision-Making Processes: The project aims for 30% of women's participation in water committees and the formation of 16 women's savings groups, advocating for good governance and improved farming methods.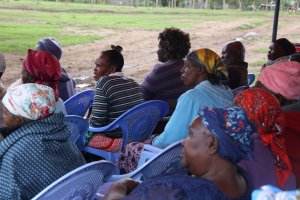 Project Outputs:
To achieve these objectives, the project will implement various activities, including:
– Ensuring year-round access to safe water.
– Constructing eco-friendly latrines.
– Training community health workers and teachers in hygiene promotion.
– Establishing girl clubs to support in improving sanitation and hygiene for school-going children.
– Empowering women farmers through access to water.
– Promoting disaster risk reduction and climate change adaptation practices through capacity building and tree planting.
Key Stakeholders:
The success of this project relies on the collaboration of various key stakeholders, including government departments and mechanisms, the active participation of the Solio community, civil society organizations, and private sector actors.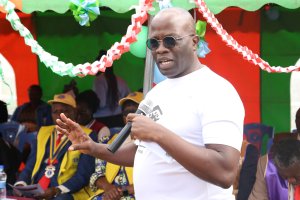 Key Metrics:
To measure the project's impact, several key metrics have been identified, including:
– 2,270 households targeted
– 10,275 individuals reached
– 520 schools kids impacted
– 1,022 PWDs impacted
– 30% increase in annual household income
– 30% women's participation in decision-making processes
Direct Beneficiaries:
The project will directly benefit 10,215 people from 2,270 households in the villages of Bahati, Baraka, Mukandamia, and Mathangira. These beneficiaries will receive water for agriculture through the rehabilitation of 4 wells and the construction of 3 new wells.
Specific Target Groups:
The project will focus on various target groups, including women smallholder farmers trained on climate-smart agriculture, vulnerable households receiving environmentally friendly latrines and soap production training, local artisans trained in building eco-friendly latrines and recycling waste, school children benefiting from environmentally friendly latrines and hygiene training, and members of the community water committees.
Conclusion:
The launch of the "Improving Resilience to Climate Change" project in Solio, Laikipia County, marks a significant step towards transforming the lives of thousands of residents in this semi-arid region. As we strive to address critical issues like water and food security, women and youth empowerment, and ecosystem restoration, we are committed to creating a more resilient and prosperous Solio community. With the support of key stakeholders and the Deputy Governor's appreciation, this project holds the promise of a brighter and more sustainable future for the people of Laikipia County.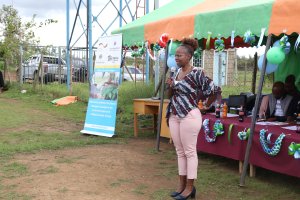 Related