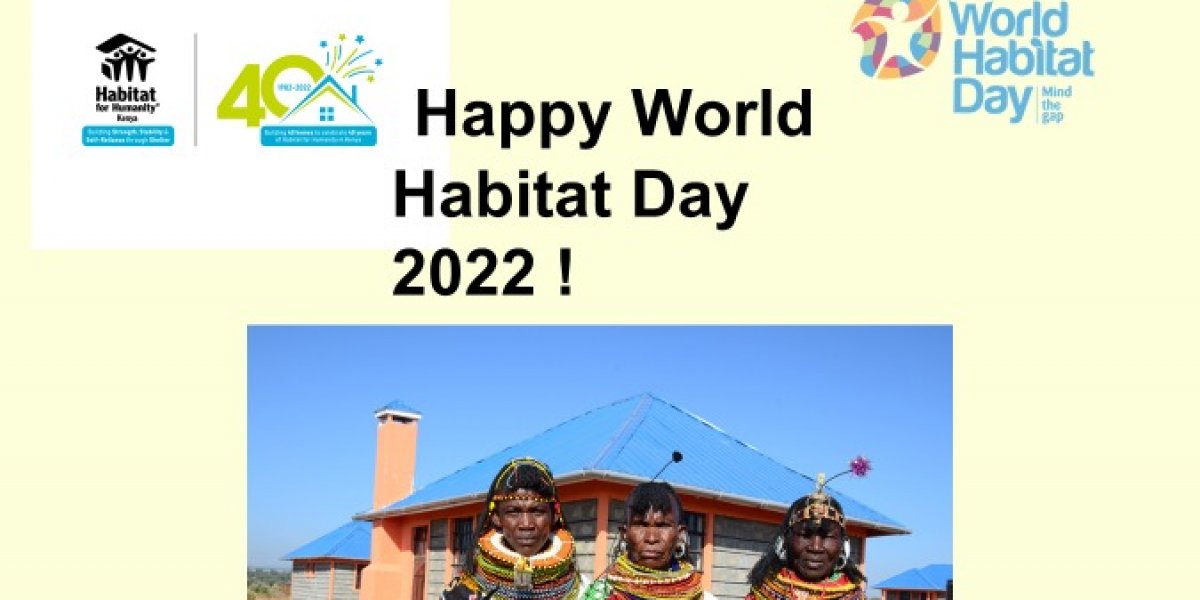 World Habitat Day
October 3rd, 2022
More than 35 years ago, the United Nations General Assembly took an important step in promoting the idea that everyone deserves a decent place to live by declaring that the first Monday in October would be World Habitat Day.
On Monday, Oct. 3, 2022, Habitat for Humanity Kenya joins our partners around the world to rededicate ourselves to recognizing the basic right to adequate shelter.  This year's theme "Mind the Gap, Leave No One and Place Behind' looks at the problem of growing inequality and challenges in cities and human settlements. It reminds us that: Every one of us deserves the opportunity for a better future; A decent place to live can remove barriers to opportunity, health and success that might have been part of a family's life for years and in many cases for generations.
There are many inequality gaps related to housing that have been caused by poverty, disasters, slow implementation of polices such as the New Urban Agenda among others that have left many people lacking decent and affordable housing. The housing situation for low-income earners in Kenya is dire, leading to an annual housing demand of 250,000 units  with an estimated supply of only 50,000 units.  In 2017, the housing deficit in Kenya was estimated at 2 million units. Today, the situation is worse since the previous government only managed to construct 1,307 units in the last five years.  While these challenges remain a reality within the urban centers where hundreds of people live in the slums, it gets even worse for the people living in the rural low income and vulnerable populations who have limited capacity and resources to access decent and affordable housing which is a basic right recognized by law. Similarly, actions to provide appropriate and affordable housing have a variety of benefits and aid in the execution of other global development goals, such as the New Urban Agenda, the Sendai Framework for Disaster Risk Reduction, and the Sustainable Development Goal 11.1 and the Paris Agreement on Climate Change.
Housing gap should be tackled by addressing poverty and inequalities, through rights-based approaches, people centered approach to ensure an adequate standard of living and especially the right to  adequate housing, water and sanitation. Habitat for Humanity Kenya is a key player in providing Adequate and Affordable (AA) housing solutions in Kenya, Habitat for Humanity Kenya's overarching goal is to enable low-income families access decent and affordable shelter. The recent announcement by president William Ruto towards construction of 250,000 units annually is timely towards bridging the housing gap. This commitment will need policy commitments, budgetary allocations and alignment of the county governments plans to the national plans. The state should  also create an enabling environment for aspiring home owners, investors and developers to promote adequate and affordable housing and also consider the vulnerable and low-income populations in the housing agenda. To navigate the budgetary constraints faced by the previous regime, the current government should facilitate private developers to construct affordable houses and enable Kenyans to afford them by structuring affordable long term housing finance schemes.  Strict measures should be enacted to regulate the cost of land.  The Government should also consider incentives, such as waiving the stamp duty for first time home owners and reducing the mortgage lending rates.   The public should be educated on the benefits of alternative construction materials and technology so that they can embrace change in order to reduce the cost of housing.
Related